The IAU île-de-France becomes L'Institut Paris Region
The institute broadens its fields of intervention and opens up its governance
The Institut d'aménagement et d'urbanisme de la région Île-de-France, known by the acronym IAU île-de-France, is a historical institution in the capital region. Created under the acronym IAURP in 1960 by Pierre Sudreau, Minister of Construction of Michel Debré's government, it was mobilized from 1961 by Paul Delouvrier, General Delegate of the brand new District of the Paris - ancestor of the Île-de-France Region - for the prodigious adventure of the development of the Paris region wanted by General de Gaulle.
The supervision of this large urban planning agency - the largest in Europe - was transferred in 1986 from the State to the Region as part of decentralization. Over the years, the IAU has kept the same format (about 200 people) and its missions have expanded. Creation of the Environment Department in 1976, the Regional Health Observatory and Safety Mission in the 1980s, the Regional Institute for Sports Development (IRDS) and training activities in the 2000s.
Under the chairmanship of Valérie Pécresse since 2016, the Institute has considerably strengthened its environmental resources by integrating the Regional Biodiversity Agency, the Regional Energy and Climate Agency and the Regional Waste Observatory into its structure in summer 2017. Then, between July 2018 and June 11, 2019, it carries out its legal transformation from a Research Foundation into a 1901 Law Association, which allows it to extend its governance to all local authorities in Ile-de-France that so wish and to major regional bodies operating in its fields of competence.
On June 11, 2019, Valérie Pécresse chaired the first general assembly of the Institute, which was enlarged in this way. She announced the completion of this transformation, which it confirmed with a new brand: the three letters "IAU" are replaced by the three syllables "The Institute", and "Île-de-France" is replaced by "Paris Region", which is more internationally readable.
The new brand "L'Institut Paris Region" positions the organization as a leading scientific and technical support centre for the development and evaluation of public policies in the capital region. It also underlines the independence of its expertise and its vocation to expand internationally.
By the end of the year, at the venerable age of 60, the IAU will be erased to make way for the newborn, L'Institut Paris Region, with a precious legacy!
Translated with www.DeepL.com/Translator
11 June 2019: launch of the new IAU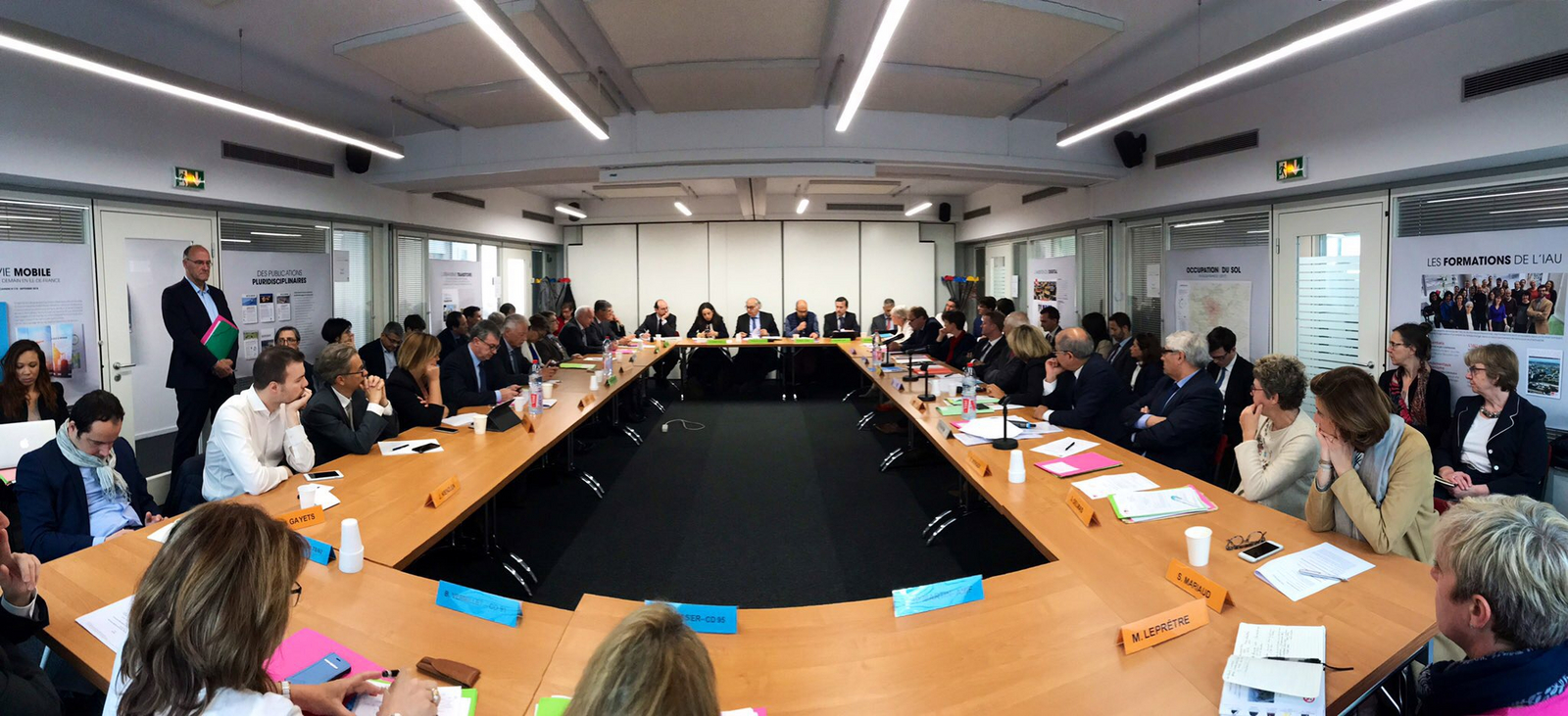 Public and private agencies